MEET THE FEEBLES SYNOPSIS

Meet The Feebles, a puppet tragedy of gross proportions, relates the fateful events that lead to the infamous Feebles Variety Massacre - a day that rocked the puppet world!
BLETCH, a cigar chomping walrus, has his hands full with his cast of egocentric show-biz stars. When you've got an incompetant panic stricken fox as a director, a junkie knife throwing frog, and a hare with a fatal disease as MC, things do not look sunny. But Bletch's biggest problem is with his star and long time lover, HEIDI the Hippo, who suspects that he is having an affair with a Siamese cat called SAMANTHA.

With two failed suicide attempts and her mental balance totally destroyed, Heidi makes an unannounced entrance centre-stage.....armed with a machine gun!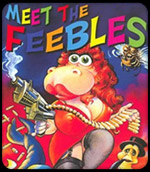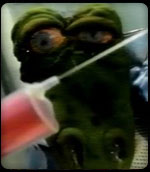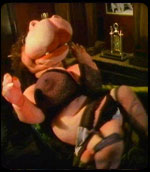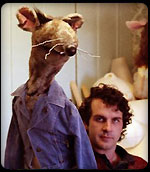 BACKGROUND
While Peter Jackson and Cameron Chittock were finishing up the special effects for Jackson's first feature film, "Bad Taste", they talked about the idea of making a puppet film--"But one where they're dirty little creatures, taking drugs and all that stuff." The film was made with the profit from "Bad Taste", and from the New Zealand Film Commission. It took only twelve weeks to make. However filming wasn't going smoothly. They were behind schedule and couldn't reach the deadline set by the NZFC. So when asked to submit the film, they submitted what they had and secretly broke into the studio at night to finish the movie, submitting what they had done under another name: 'Frogs of War'.

MOVIE TAGLINES
"The Puppet Spunk Hits The Fan"
"Hell Hath No Fury Like A Psycho Hippo With A Heavy Machine Gun"
"Welcome To The Jungle!"
"Sex, Drugs And Soft Toys"
"More Carnality From The Director Of Bad Taste"

INTERESTING FACTS
This is the only film of Peter's where he doesn't feature as a character or a cameo, in fact there are absolutly no human characters in the film at all.

When the movie is almost over, sitting amongst the audience you'll see the alien taken from the director's 1st movie, Bad Taste.

All dialogue in the film was recorded before the production of the film to make shooting easier.
Most of this film's budget was from the gains of Peter Jackson's first film, "Bad Taste". The rest was from the New Zealand Film Commission. It came to around $450,000.
This movie was entirely shot with puppets. There weren't any living things in the whole movie, not even in a picture.

Shot on 35mm at an aspect ratio of 1.66:1

MOVIE AWARDS
1990: Paris - Le Prix Tres Special
1990: New Zealand Film Awards - Best Contribution to Design
1991: Madrid Film Festival - Audience Prize - Most Popular Film
1991: Fanta Festival Rome - Best Director, Best Special Effects, Best Female Performance
ANIMAL TREATMENT DISCLAIMER
"The producers wish to advise that no puppets were killed or maimed during the production of this film."

RUNNING TIME: 92 MINS APPROX.
©Wingnut Films 1989
<